Action Learning Team Coaching
A Powerful Transformative Mode of Collaboration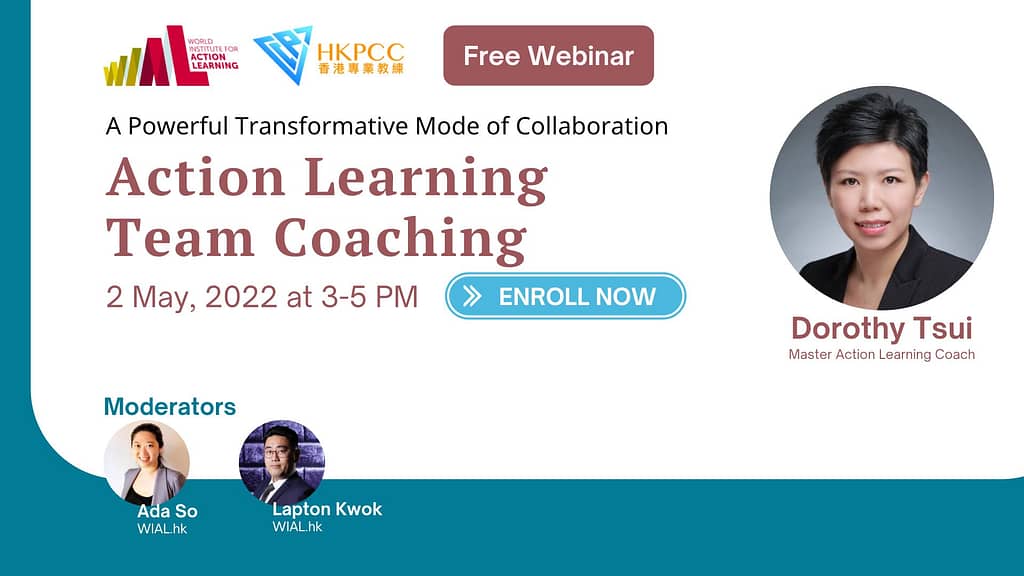 The new mode of teamwork: What does it mean to organisations, leaders and individual team members
Tips on building seamless teamwork for remote and hybrid teams with action learning team coaching
Re-imagining teamwork as a collaborative opportunity for individual, team and organisational growth
Organisations which still want to thrive in the turbulent times are transforming their business models. Teams and leaders are no longer working in the same way and need extra support to make necessary changes. Action learning team coaching is fast-paced and interactive, while supporting individual, team and organisational growth with powerful questions that facilitate productive dialogues. In this webinar, we will explore how action learning team coaching will support and develop your team at the same time, no matter if your team is facing a project deadline or grasping greater opportunities ahead.
TSUI Pui Yin Dorothy, MALC, CPTD®
WIAL Authorized Faculty Member
WIAL.hk Course Instructor
Master Action Learning Coach, WIAL
Dorothy Tsui is a dedicated people and organization development consultant who partners with her clients in formulating solutions that build their organizational and leadership capacity to make positive strategic changes. She started her career in the retail catering and hospitality industry. She has a strong bond with service industries with hands-on experience in frontline operations, business, brand and people management. Her broad consultancy portfolio includes clients from international corporations in finance, retail, hospitality, real estate, manufacturing and IT, as well as government agencies, non-governmental organizations, not-for-profits, and educational institutions. Her clients include global brands such as HSBC, Bank of China, Hewlett-Packard, Disneyland, Heineken, Hyatt, Venetian, SWIFT, CBRE, Chanel, Burberry, VF Corporation, Jardine, MSD, World Vision and Oxfam.
Dorothy is fluent in English, Cantonese, and Mandarin and leads regional projects in Asia that engage diverse stakeholder groups from different cultures. Collaborating extensively with her partners around the globe, Dorothy works with the best people to support her clients to achieve their global agenda.
Founding the World Institute for Action Learning (Hong Kong) (WIAL-HK) in 2011, an official international affiliate of the World Institute for Action Learning (WIAL), Dorothy leads Action Learning projects to support organizations to enhance business performance, create learning culture, develop leaders and high potentials, build strong teams, and plot strategic plans. She is a WIAL Master Action Learning Coach and runs WIAL certification program to develop Action Learn Coaches.
Dorothy is the first Certified Professional in Talent Development (CPTD, previously known as CPLP) of the Association for Talent Development (ATD) in Hong Kong. She was one of the designated facilitators of the ATD's official preparation instructor-led workshop and has supported candidates in Asia to go through the certification process.
About WIAL (World Institute for Action Learning)
Free Registration for the Event