Introduction to Action Learning 行動學習初探
Developing People and Creating Results Simultaneously
同步發展團隊成員的能力及創造成果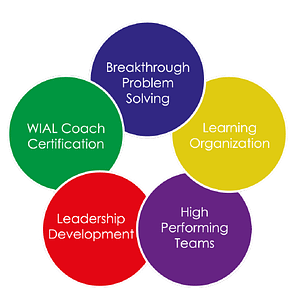 Action Learning is a process that involves a small group working on real issues, taking action, and learning as individuals, as a team, and as an organization. It helps organizations develop creative, flexible and successful strategies to pressing issues.
Action Learning has emerged as a method of choice for global companies, government agencies, and non-profit groups that want to improve quality, cut costs, create new products and services, and change the cultures of their organizations. From Boston to Brazil, from Finland to Tokyo, companies as diverse as Microsoft, Samsung, Dow, GE, Deutsche Bank, Boeing, Sodexho, Novartis and many others use Action Learning to solve complex problems, develop leaders, build teams and expand corporate capability.
In this session, we will share how organizations can apply Action Learning to develop their people and cultivate organizational learning. You will also have a chance to experience the essence of applying team coaching in Action Learning.
行動學習是一個過程,當中需要一個小組在處理當下實質的問題,採取行動,並促進個人,團隊和組織學習。它幫助組織發展創造性,靈活性和成功解決緊迫問題的策略。
行動學習已成為全球公司、政府機構和非營利團體的首選方法,它們希望提高質量,降低成本,創造新產品和服務,並改變其組織文化。從波士頓到巴西,從芬蘭到東京,眾多不同的公司,如微軟、三星、陶氏、通用電氣、德意志銀行、波音、索迪斯、諾瓦蒂斯等,都利用行動學習解決複雜問題,發展領袖,建立團隊,並擴展企業能力。
在這個環節中,我們將分享組織如何應用行動學習來發展其人員並培養組織學習。您還將有機會體驗在行動學習中應用團隊教練的實質。
Free Pre-Workshop of CALC14
ZOOM Online Workshop
Date: 4 November, 2023 (UTC+8:00 HKT)
Time: 2:00pm – 6:00pm
Fee: Free of Chrage
Language: Cantonese

Inquiry:

+852 6139 2626
Email: service@wial.hk
什麼是行動學習? What is Action Learning?
它是如何運作的? How does it work?
體驗行動學習 Experiencing Action Learning
如何使用行動學習 How to use Action Learning
International Coach Federation (ICF)
Continuing Coaching Education Credits (CCE)
WIAL Action Learning Certification Program is approved to offer 4 CCE (3CC/1RD) towards certification of the International Coach Federation for 4 hours program.
WIAL 已獲批提供 4 個 CCE(3CC/1RD)認證時數。
Dorothy Tsui, MALC, CPTD®, PCC
WIAL Authorized Faculty Member
WIAL.hk Course Instructor
Master Action Learning Coach, WIAL
Dorothy Tsui is a dedicated people and organization development consultant who partners with her clients in formulating solutions that build their organizational and leadership capacity to make positive strategic changes. She started her career in the retail catering and hospitality industry. She has a strong bond with service industries with hands-on experience in frontline operations, business, brand and people management. Her broad consultancy portfolio includes clients from international corporations in finance, retail, hospitality, real estate, manufacturing and IT, as well as government agencies, non-governmental organizations, not-for-profits, and educational institutions. Her clients include global brands such as HSBC, Bank of China, Hewlett-Packard, Disneyland, Heineken, Hyatt, Venetian, SWIFT, CBRE, Chanel, Burberry, VF Corporation, Jardine, MSD, World Vision and Oxfam.
Dorothy is fluent in English, Cantonese, and Mandarin and leads regional projects in Asia that engage diverse stakeholder groups from different cultures. Collaborating extensively with her partners around the globe, Dorothy works with the best people to support her clients to achieve their global agenda.
Founding the World Institute for Action Learning (Hong Kong) (WIAL-HK) in 2011, an official international affiliate of the World Institute for Action Learning (WIAL), Dorothy leads Action Learning projects to support organizations to enhance business performance, create learning culture, develop leaders and high potentials, build strong teams, and plot strategic plans. She is a WIAL Master Action Learning Coach and runs WIAL certification program to develop Action Learn Coaches.
Dorothy is the first Certified Professional in Talent Development (CPTD) of the Association for Talent Development (ATD) in Hong Kong. She was one of the designated facilitators of the ATD's official preparation instructor-led workshop and has supported candidates in Asia to go through the certification process. She is an ICF Professional Certified Coach specialized in leadership, wellbeing and team coaching.
About WIAL (World Institute for Action Learning)